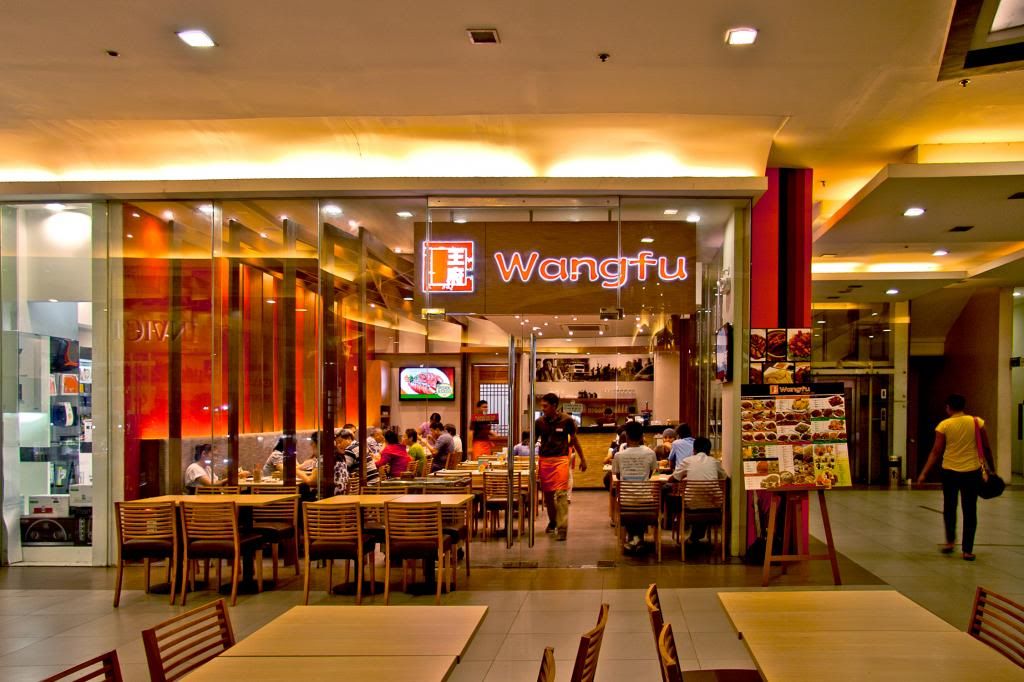 New Year, new challenges, new experiences and New Food????
Well, mommy loves preparing foods for the family, unfortunately there are times that you need to venture for new taste, new delicacies and new preparation or set up of food. Most of the time, I, myself crave for something different, a new taste of food. Gladly that I was invited for an event and take note it's a food tasting event. Just the right time when I'm craving for something new.
The place was called Wangfu Chinese Cafe and it is found at Il Terrazzo Mall in Tomas Morato. It's just around the place of Tomas Morato where most of the best places in the metro are located, by the way Tomas Morato is in Quezon City. What's surprising about the place is that it can easily be spotted.
Wangfu Chinese Cafe restaurant that serves Singaporean and Cantonese cuisine in a modern cafe. According to the Owner, they have two (2) meaning for the restaurants name Wangfu. For the literal Chinese meaning, "Wang" means King or Prince while the "Fu" means Place, so Wangfu literally means the Place of a King or Prince. The other meaning or where it is taken is from the Chinese surname of both owner which "Wang" and still the "Fu" as a place or venue. When put together defines as Wang's Place.
Crunchy Sweet and Sour Pork
It was really an OMG! because my tummy was full that day. My eyes grew big when I saw the foods served to us and they were amazingly tasteful. I love trying and tasting different food of different country it gives me a sense of being into that place. Isn't it nice thinking like that?
The Cereal Prawns
Beef Curry
Well, we were served with different dishes and I'll start with the Crunchy Sweet and Sour Pork which I could say was the blockbuster in our table, there were no leftover. The next one is the Hainanese Chicken, unfortunately I am not a fan of poached dishes and I want my dish cooked well and done.
Next is the Soy Chicken, this is somewhat nice on my taste bud. I like it! Followed by the Curry Beef or is it Beef Curry not really sure how it was called. What I like about beef that it was so tender and the curry was so light. I love using curry when I am cooking, I want large amount of it on my dish. If you're not a fan of the curry, well, Wangfu's Beef Curry is the best for you because of its mild curry flavor. This next one is new to me, the Cereal Prawns. It is coated with cereals, it tasted sweet and I loved it! Not just because I really love shrimp but because this is something new on my taste bud. French Beans Stir Fry, I don't eat vegetables that much but beans is one of the vegetables that I like to eat. This beans of Wangfu was good with a kick of spicyness in it.
Soy Chicken
HainaneseChicken
French Beans Stir Fry
Oh before I forgot, the drinks that I ordered was the Honey Peach Freeze which taste so good. I like the sweetness and I'll definitely order that drinks again when I visit Wangfu.
Traditional Ice Kachang
Another food that I'm going to order again is the Traditional Ice Kachang. It was also the blockbuster in our table. Well, my friend reacted when she saw it in my FB status, she said that she missed eating Kachang she last ate one when she was still in Singapore. I told her that she should visit Wangfu in Tomas Morate, Quezon City if she want to experience it again.
So, readers if you want to have a something new for your taste bud, better visit Wangfu Chinese Cafe to experience Singaporean Delicacies.