I was really delighted when I was invited by one of my bloggers. This newly opened two in one establishment, the Comida Ilocandia and the Spaoay is something new to me. So I tried it, though I have only been to a spa house once. This is another opportunity to get relaxed.
The place was quite small but good enough to accommodate a number of guests. A good place to relax and rejuvenate a tired body.
The Ilocano Style Pancit.
It was raining when me and my husband got in to the place. We were wet but thank goodness we were not that wet. Anyway after being entertained by the organizer of the event Chef Danny, one of the owner of the place was very accommodating and introduced himself first to us and later on offered us to try some of their foods. Chef Danny was Ilocano and I don't have any idea how Ilocanos cook or an idea about their dishes. Since most of the spa rooms where occupied, Me, together with my husband dig in to the tasteful offering of Comida Ilocandia.
First that was offered was the version of pansit together with a 1930 style of baked bread or pandesal that comes with a pate spread. As for me I'm not much of an experimenter so trying something new is not my usual but this time I was able to try their Ilocano style of pancit. I got too excited that I poured in too much of the concocted sauce for all of Chef Danny that perhaps made the pancit more sourly flavored. My bad. Perhaps it is best when just the right amount.
The 1930 recipe bread and a pate.
Then I tried one of their dish in their menu which is quite good. Since the food was really a tummy filler Chef Danny brought out his own concoction of the Mojito which is a mixture of Basi and fresh dalandan juice. Refreshing with a kick!
After the sumptuous food, it's time for the relaxation. The spa at Spaoay which is just adjacent to the Comida Ilocandia. Just like I mention it's a two in one business establishment, you relax then you eat or you eat first and then you relax.
Spaoay offers a traditional Ilocano treatment for massage and facials and what's great is that they offer these services with the use of herbs-tea tree, mint and coffee. I like the massage experience that I had, it was relaxing and relieving. Aside from these massage treatment they also have some body wraps, scrubs and baths with the use of mountain clay, sea salts, and balsamic vinegar. According to them all are beneficial to our body.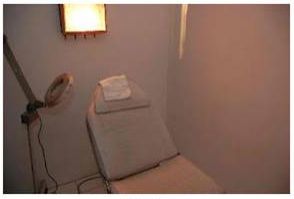 The Spaoay is open daily to give alternative and natural healing. Spaoay also provide exclusive hotel and home services. Located along Timog Avenue in Quezon City, you can call (02)994-7596 or 09189256603