Over the last couple of years, travelling hither and yon, I've lied to a great many people. Or, if not lied, then exaggerated my position. When asked if Wee Mo and I would be going back to Dubai after we put down our backpacks, our response was always the same: no, wouldn't go back, not even for a holiday. Not curious about it, not in love with it, could name 100 places we'd rather see for the first time; could name another 50 we'd like to revisit before going back there.
A caveat, which I failed to add to this position of alleged non-negotiation, is that I will always be willing to go back if someone literally pays me to do so. And so you find me on commission, hurtling along Oman's eastern coast, about to turn in-land to cross the mountains and desert near Hatta, all the way over to Dubai.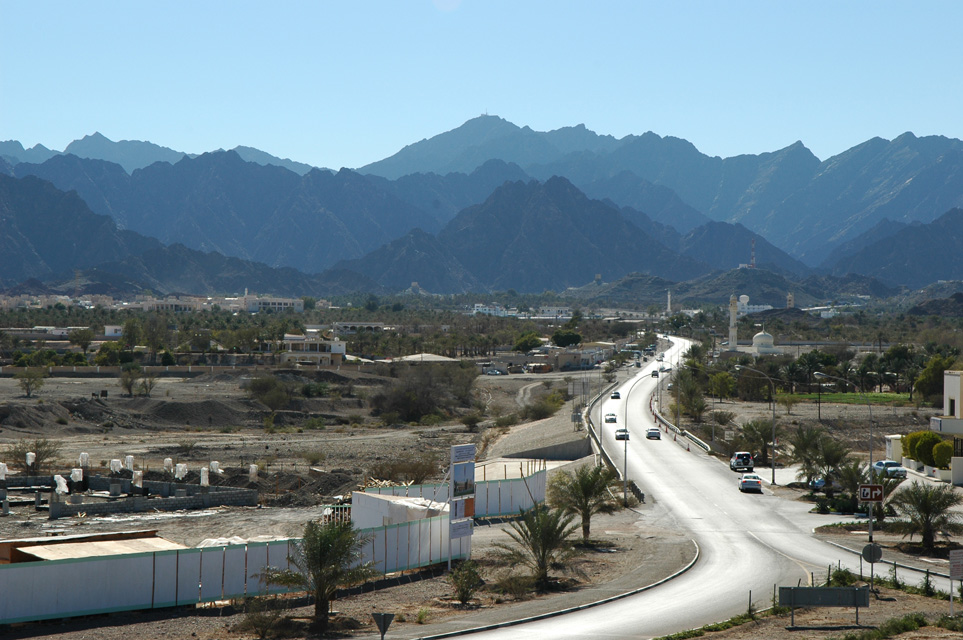 Not my picture
But having worked 10 days without break, and with some shifts stretching grotesquely past the 17-hour mark, I'm fucking exhausted. There's a kind of unhealthy, cumulative fatigue inside me and my edges are fraying badly. The story I'm on the way to write is about visiting Dubai on a budget, which is entirely possible and is something I know quite a bit about – Wee Mo and I spent a year scrimping as hard as we could to save up for our big backpacking adventure. We saved for so hard for so long that I could, theoretically, write this piece without setting foot in Dubai.
But the commission is from a Big Publication, and the editor has insisted that I actually get myself back to Dubai to see what's new. So here I am, tightly gripping the wheel, singing and moshing like a fool in a bid to stay awake.
As compensation to myself, I've organised a half-decent hotel in Dubai, which stretches the concept of budget accommodation the piece is supposed to feature, but which will hopefully offer me a decent night's sleep for the first time since getting back to the Middle East. Outside my grotty apartment in Muscat there roams a pack of feral dogs which spends the nights fighting and fucking with abandon. It's a gruesome, noisy business which, added to two mosques' dawn call to prayer, has left me on the edge of some hysterical, sleep-deprived cliff.
I won't have the dogs or the mosques to contend with in Dubai, that much is certain, and so I while I drive, I think of the bed that will greet me at Jumeirah Emirates Towers, but not so much that my lids start to drop. To fend this off, I stop at a petrol station, top up the petrol (19p per litre) and grab a dinner of a Galaxy Caramel and a can of filthy Power Horse (33% extra free!).
When I get to the border at Hatta, it's gone 11pm and I have degenerated into a feral beast, ready for confrontation with anyone who queries my Omani rental car. I have a fistful of documents in Arabic that purportedly explain that the rental company say it's OK for me to be here and that I'm insured. But the pretty Emirati girl with the round, yellowy eyes at the border doesn't care about that, she just wants to see my passport and flirt a little, which, demented by my internal battle between exhaustion and Power Horse, I find absolutely hilarious.
Back on the road, it's almost two hours before I final get to the hotel. The Emirates Towers are two of the most elegant buildings in the city. One is a hotel and the other is a financial centre. They're said to represent a male and a female dancing, and that makes them a little lovelier than most of their neighbours. We came here a few times when we lived in Dubai, mostly to disgrace ourselves Harry Ghatto's, a Japanese karaoke bar. Once we came as part of a group of journalists after about 10 hours of drinking and tried to cajole some Emiratis into joining us in a sing-song. Presumably in there hoping for a quiet night, they put down their red wines and left.
Not my picture.
Because of these boozy memories, and in spite of the fact my some-time employers Jumeirah built the towers, I had always expected the rooms to be a little bit shit. Jangling mess though I may be on arrival, I'm extremely happy to be proved wrong.
They needlessly upgrade me to a suite, so I'm still not sure how it is in the cheap seats, but the room is classy, with refined, understated décor and all the other shit someone like me wrote in the brochure. There's a bowl full of fruit (it gets replaced every day), and satisfyingly branded Molton Brown toiletries. There's complimentary, password-free Wi-Fi. The towels are insanely fluffy. The air-con system is logical ad subtle. The curtains are electronic and can be operated easily from a prone position in bed. There's a strange, yogic mattress cut into the corner of the room, and an espresso maker just next to the business desk. In short, this is absolutely a five-star room in a five-star hotel, and when I collapse onto the bed, I am glad, glad, glad that this fat city has stretched to such gluttonous luxury.
The next morning, I have to set about compiling the infernal guide, but not before I've put the finishing touches to a story about some crooked doctors hoping set up a stem cell treatment clinic in Muscat. They plan to feast on the misery and desperation of the unwell and, if possible, I'd very much like to stop that from happening.
So I write and write and before too long I'm exhausted again even though I've yet to leave the hotel room. But leave I must, so I drag myself downstairs, head out to the metro system and buy a ticket for the Dubai Mall.
As a holiday destination, Dubai seems to just about seems work these days. Assuming you can be bothered to leave your hotel's grounds (a lot of people don't) then getting from Tourist Attraction A to Tourist Attraction B is a fairly easy business. The metro, which had only just about opened when we left in 2010, is almost complete, cutting down the need to jump in taxis with mad, geographically retarded Pakistani drivers. A lot of the buildings, skeletal and half-finished in our time, are now open for business too. Perhaps most encouragingly of all, Indian labourers – the slaves who built this town – are now said to have a much fairer deal, with some vaguely enforced laws.
So long as you're not interested in going off the beaten track, Dubai is now something approaching a real city, albeit one with multiple, disconnected cores, populated by a legion of fucking arseholes.
Not my picture.
Walking around the Mall, the vapidity and hypocrisy of it all starts to creep back up my spine. Emirati husbands stride out in front of their wives, with their Filipina nannies trailing their children behind. Elsewhere smug looking western pricks in too-tight polo-shirts honk and guffaw and boast about being how smashed they were last night. Meanwhile, their female counterparts grip shopping bags tightly, their jaws locked when not checking and double-checking with their girlfriends that they've bought the right pair of shoes.
Somewhere in the middle of these bastards, there's a sign warning against holding hands or showing overt affection, and yet in the excellent Kinokuniya book shop 50 Shades of Grey – fisting, jobbie-jabbing, vaginal clamps and all – is on promotion. Just round the corner from that, purveyors of kinky pants Victoria's Secret has just opened a superstore. BUT DON'T HOLD HANDS.
It's all bollocks, in other words - I suspect it always will be. And as I drive out of town the next day, work done, the strange skyline fading to beige in my rear-view mirror, I'm really glad I don't have to worry about it.