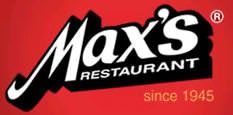 Get the Biggest Chicken Deal with Max's Real Saver Chicken Promo using BPI Express Credit Card .
It's raining chickens this July as global Filipino brand Max's Restaurant has recently unveiled its latest innovative deal, "Max's Real Saver" Chicken Promo. Max's will be offering 8 regular, whole "sarap-to-the-bones" Fried Chicken to BPI Express Credit cardholders for only PhP1,999, generously slashing off PhP1,000 from the original price of its regular whole chickens!
Customers just need to visit their favorite Max's branch and present their BPI Express Credit Card to purchase their favorite Max's Fried Chicken. They will be given 8 Real Saver cards with different designs to avail of Max's regular, whole Fried Chicken whenever and wherever they want. Max's aficionados can indulge in all the fried chicken they can consume, with more to share with their family and friends. "Max's has always been very creative with its promotional deals. Customers get to enjoy Max's delectable dishes at very affordable prices. Max's new promo is not only an exciting offer, it's also perfect for family celebrations, group gimmicks, and even as a gift item," shared Robert Simborio, Corporate Communications Manager for Max's Group of Companies.
Catch Max's Real Saver Chicken Promo anywhere in the Philippines, from July 6 to September 4, 2012. Redeem your 8 whole, regular fried chickens all at once or stagger them across different dates until November 3. Go, get those chickens now!
For unbelievably great deals, log on to
www.maxschicken.com
or visit
www.facebook.com/maxsrestaurant
to be a Max's Restaurant Facebook fan.