A bee in a Mandarin suit is what represents this restaurant. An authentic Chinese cuisine that goes a long story before it had it's way in a portion of a lot in Don Antonio area along Commonwealth Avenue. From the name of its owner Mrs. Ang Ong King Bee the name of the restaurant came about. It was August 17, 2001 when the first King Bee Chinese Restaurant was established in Brgy. Manggahan, General Trias, province of Cavite. A family business that have grown not only in the provinces of Cavite and Laguna but also in Rizal and NCR. Having seven (7) branches makes King Bee compete with its predecessors.
King Bee Chinese Food offers a wide array of authentic Chinese recipes which was brought by their hired Internationally known Chefs from Hong Kong. A line up of dimsums, roast specialties, noodles soups, and other main courses cooked in an authentic way.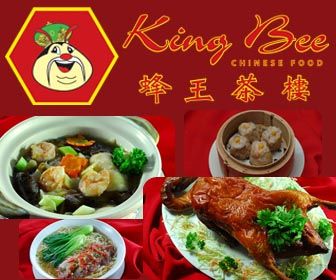 We all know Chinese Restaurants vary in designs and concepts but still have the main theme of Chinese craftsmanship and culture but what makes King Bee known was their authentic food preparation and presentation. It was something that had made me dropped my jaw.
Last August 24, 2012, I was part of the Food Event that was held in King Bee Chinese Restaurant Commonwealth Avenue Branch. Welcomed warmly by their receptionist. Since it was rainy that time, the relaxing feeling of the the place adds up with the weather.
Of course in every event there's always a part of introduction and a presentation where they introduced the who is King Bee and what is about them that will for sure make people come back again.
Since it's a food event these are what King Bee Chinese Restaurant served.
Winter Melon Soup
with a great presentation and an enticing look. I can say that just the look makes me even more hungrier and besides since its raining soup a best way to warm the body. The winter melon cut open with shrimps surrounding the opening and the soup was placed inside of it. A mixture of mushrooms, shrimps, and bits of bacon.
The
Dimsum Platter
was composed of Chicken Feet, Pork Siomai, and Birds Eye Siomai. A combination of dimsums in a platter, yummy and enticing.
The
House Specialty Roast Chicken
a tasty and good roast chicken. I'm sure my kids will love this.
Sliced Beef with Broccoli Flower
is flavorful enough with its sauce, bite size cut of a tender beef that compliment the crunchy Broccoli Flower.
Sauteed Crystal Prawn Balls with Cashew Nuts in Taro Nest
a uniquely designed Taro Nest created and fried like a bowl to become a basin for the Sauteed Crystal Prawn Balls which is a mixture of Prawns and Cashew Nuts.
King Fish in Thai Sauce
imagine the taste of cherry, sliced mangoes, and the Thai sauce with the crisp taste of the King Fish. It's like an explosion of flavors and tastes. It's a very nice plating.
Of course the
Yang Chow Fried Rice
who would not want to have this during the meal. It is the usual mixture of rice, shrimp, egg and some veggies fried together.
I think most of the bloggers do share the same thoughts about this
Chinese Pastries
, the creamy mango flavored pastry won our hearts and we were hoping to order a box of it but was disappointed because it's not yet officially out and this pastry was first launched to us bloggers. So we were the judge about it and I say two thumbs up about it. So, I'll be waiting for its official dish name.
As I thought we over already, a giant
Mixed Fruits Platter
designed in a very unique manner came out. Fruits are great especially in digestions. Since we had much we really need to digest everything that we have consumed.
They really have a wide array of choices that can cater different classes of people from A to C. This makes their dishes and menus affordable for everyone.
Right now the company has seven (7) branches in the provinces and in the metro that cater to customers who longs for Chinese cuisines, namely
Newhall Commercial Center (Main branch)
in Barangay Mangahan, General Trias, Cavite;
Bacao Branch
in Bacao, General Trias, Cavite;
Marcos Highway Branch
in Antipolo City;
Sta. Rosa Branch
in Don Jose, Sta. Rosa City, Laguna;
E. Rodriguez Branch
in E. Rodriguez Sr. Avenue, New Manila, Quezon City;
Daang Hari Branch
in Daang Hari Road Brgy. Almanza Dos, Las Piñas City; and the newest branch the
Commonwealth Avenue Branch
located in Don Antonio, Commonwealth Ave., Quezon City.
A typical Chinese Restaurant that shows the most prominent color which is the red, with different Chinese characters and designs. Relaxing aura of the place and of course don't forget the usual Chinese music being played in a centralized audio player. Accessible comfort rooms and wash area.
Aside from the dining area they also have function rooms for different occasions. The Commonwealth Ave Branch can accommodate customers of up to 400 including the second floor. Over all the experience with King Bee Chinese Restaurant was two thumbs up the only thing was they don't have wifi. Perhaps this could be made available soon.
Unfortunately their website is currently down for updating to give more updated menus and other services to offer but they people can visit their Facebook Fan Page at
http://www.facebook.com/pages/King-Bee-Chinese-Food/117869731582292?ref=ts
to know what's new and upcoming.